Friday, Sept. 8 and Wednesday, Sept. 13, 2017
Join us for our first ever Homeschool Days! Make memories with family and friends on a day set aside just for homeschool groups. Groups can participate in the educational activities between 9:30 and 2:00, and are welcome to continue to enjoy all other activities until 7:00. No registration or minimum group size required for these special days.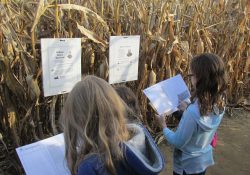 Includes:
1/2 hour Educational Barn Talk
Guided Hayride to the pumpkin patch to pick a pumpkin
Ohio Corn Maze orientation
40+ Activities to enjoy at your leisure

Farm Animals
Slides
Corn Crib Chutes
Pedal Carts
Mystery Maize

Picnic areas to enjoy your packed lunch
Barn Talk Times:
9:30
10:30
11:30
12:30
1:30
(Hayride will follow each barn talk. Last hayride to pumpkin patch leaves at 2:00.)
Ohio Maze Orientation:
Pricing:
$12 per person ages 3+
(Includes educational talks, a free pumpkin, and all activites until 7:00pm)
Season passes not valid for Homeschool Days.