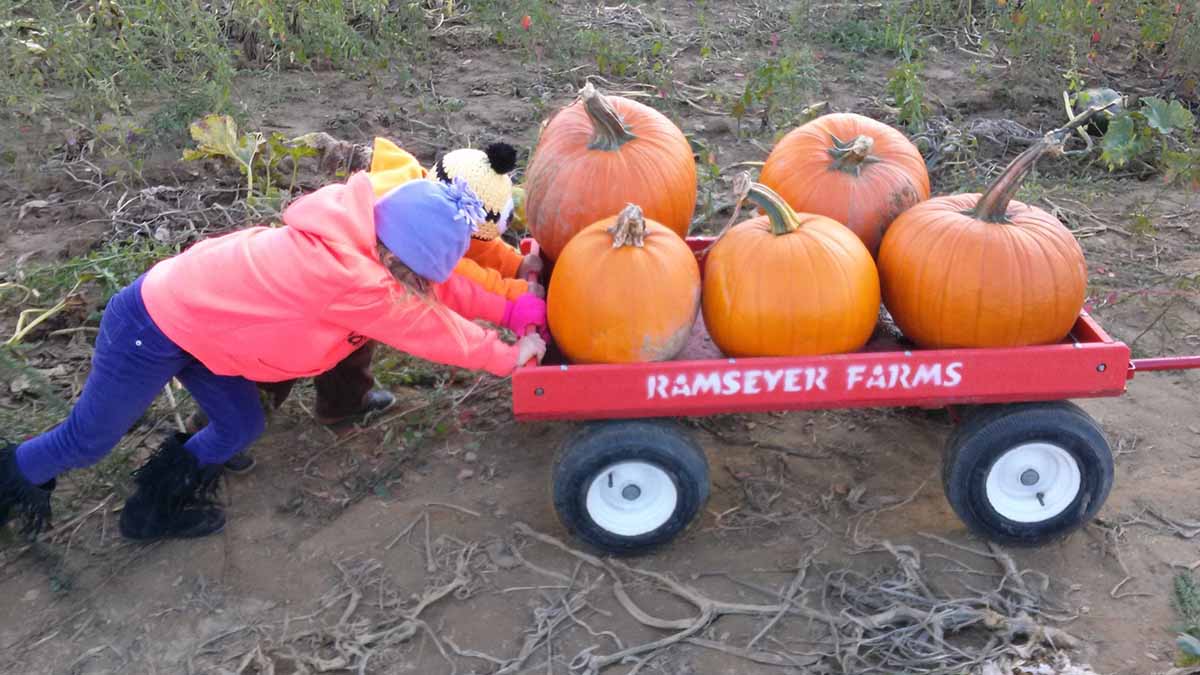 Celebrating Fall with Peanuts and Pumpkins
From potato farm to pumpkin patch to corn maze, to an eclectic autumn festival of nearly endless fun, Ramseyer Farm has traveled a journey spanning five generations of Wayne County farmers. Dennis's great great grandfather came over from Switzerland, said Karen Ramseyer, speaking about her husband's family history.
The Ramseyer ancestors purchased farmland near where the current farm is located. A legacy of potato farming was passed down through the generations to Dennis and Karen and now to one of their four daughters, Jenna Ramseyer. A recent business school graduate, Jenna Ramseyer has recently joined the family team. The farm has shifted over the years from strictly potato farming to becoming a destination for autumnal fun and games. We have people who come from New York, Pennsylvania, West Virginia, all over, Karen Ramseyer said. She laughs with amazement at how the farm has grown. What started as a corn maze and a few activities now includes two large mazes, smaller mazes, multiple games, elaborate play areas, animals and foods including homemade kettle corn and french fries. They offer over 45 different activities along with their yearly mazes. This year the farm is helping Charlie Brown celebrate the 50th anniversary of the childhood favorite film, It's the Great Pumpkin Charlie Brown, with a corn maze in the shape of the whole Peanuts gang. Karen Ramseyer explains, "There are probably 80 farms across the country that are working with Peanuts this year. As one might expect, the style and design of anything Charlie Brown related is extremely regulated. The farm was given the design for the corn maze and had to share their initial plans with the Peanuts folks for approval."
Where do the Ramseyer's get the ideas for all the myriad of creative activities and games they offer? Some come from others in the same type of business during their off-season meetings. "Some of them we just wake up with," Karen Ramseyer said, "And it's not like you can Google directions for how to make stuff when it's something you just thought up. It's always a challenge. We make things up as we go. It's a learning process, and as we create things for older kids, we now always try to come up with something similar for the little ones."
There is a hayride that takes visitors on a tour of the woods and train rides for the kids. There is a big John Deere tractor to climb into and a smaller version made of hay for tots. One of the Ramseyer's popular creations is the corncrib with sizes suitable for all ages is basically a giant pool of corn to play in. The activities encompass something for everyone. Karen Ramseyer even made a music garden by taking Farm things and turning them into musical instruments. It's all about family at Ramseyer Farm.  What we try to do is to make activities that families can do together. It's not just for kids. You can race down the hill beside your little child, and you're having fun too."
The Ramseyer Spudway, like all the activities, comes in sizes to suit every age guest. There is even a spot set aside where moms with babies can nurse their young ones in private. And it all started with the corn maze. How do they do that? Our son-in-law is a graphic design artist, and he has designed some of the mazes, Karen Ramseyer said. We make it on graph paper, and then rows are planted…so your field looks like the graph paper. This year we tried for the first time using GPS. It was pretty amazing how it turned out. She presented two photos side by side. One photo was the Ohio maze from last year, made using the traditional method. The other photo showed the one made this year with a tractor equipped to use the GPS. The results were GPS produced a noticeably more distinct and detailed maze. It's not just fun and games on the farm. There is a whole lot of learning that happens as well, though admittedly the learning comes about by way of the fun and games. The farm hosts school children from at least ten different Ohio counties.
"Last year we hosted around 9,000 school kids," Karen Ramseyer said. Leading the school tours was her first job on the farm.  I had our daughters'  preschool and kindergarten classes here before I started officially, she said. Of course, you can still buy a pumpkin. There are piles of them in all shapes and sizes already picked, or visitors grab a red wagon and head out into the adjacent pumpkin patch to pick their own. What started the whole a-mazing thing? Partly it was a few years in a row of poor potato crops, and ultimately it stemmed from gratitude. Karen Ramseyer explained,
We really started this thing when we had a church group out to our property and were out in the woods. Dennis and I were riding back to our house, and we realized how we just took for granted our beautiful property and how we could go out into the woods anytime. Dennis turned to me and asked,
Do you think other people would enjoy that? With the Ramseyers' devotion to creating a fun-filled family adventure for all ages, it seems the Great Pumpkin should have no trouble finding the most sincere pumpkin patch this Halloween. Ramseyer Farm is open to the public Sept. 1 through Oct. 30. This year they are having a Grandparents' Day special on Sept. 17 with free admission for any grandparent when they bring their grandchild age 3 or older. There also is a free movie night on Sept. 24 at 8 p.m. where they will show the classic TV special: It's the Great Pumpkin Charlie Brown. Bring your own lawn chairs or blanket.