We have a variety of options to suit your groups needs! Rent a bonfire site, tent, or our small red barn for your special event.
Bonfire Sites
$35 for three hours
Bonfire Site Rental Times:
Saturdays: 11:00 am – 2:30 pm or 3:30 pm – 7:00 pm
(Call for all day rental pricing)
Sundays: 1:00 pm – 5:00 pm
Wood is provided along with benches and a table. A Ramseyer Farms employee will start the bonfire at the designated time. Call ahead to reserve a bonfire site.
Wooden roasting sticks are available, $3/10 sticks.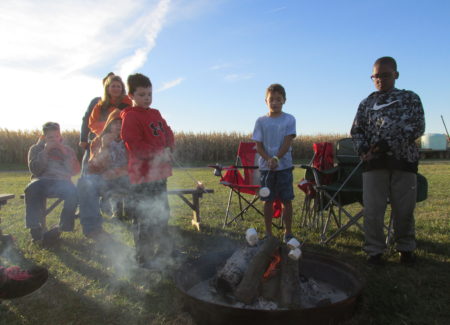 Tent Rental
Tent Rentals – $75 (tables and benches are included)
Tent Rental Times:
Saturdays: 11:00 am – 2:30 pm or 3:30 pm – 7:00 pm
(Call for all day rental pricing)
Sundays: 1:00 pm – 5:00 pm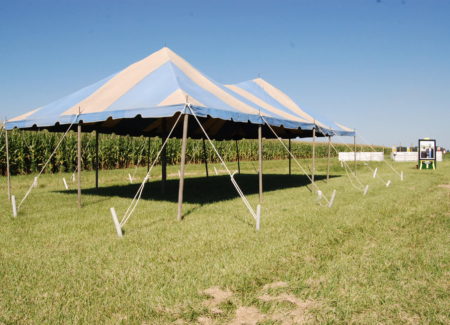 Small Red Barn Rental
Small Red Barn – $125
Small Red Barn Rental Times: 
Saturdays: 11:00 am – 2:30 pm or 3:30 pm – 7:00 pm
(Call for all day rental pricing)
Sundays: 1:00 pm – 5:00 pm
Bring your own decorations to create a fun and memorable event! Tables and benches are provided.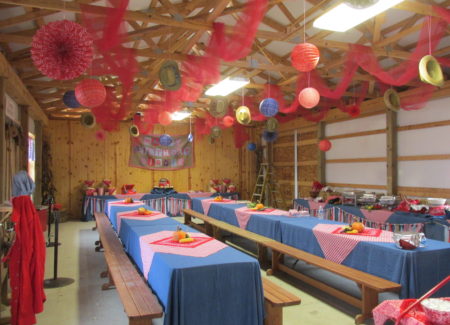 Corn Hole and Ladder Golf
Corn Hole and Ladder Golf can be reserved.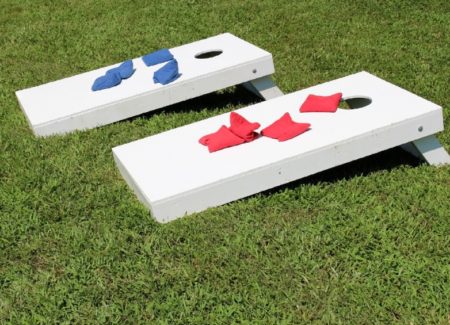 Scheduling
Please call ahead to reserve a bonfire, tent, or the small red barn
Your site will be reserved upon receipt of deposit
Admission
Admission is required for each person attending an event at a rental area. Visit our group rates page.
We recommend one person handle admission for all your guests. You may do one of the following:
Call and purchase wristbands from Ramseyer Farms ahead of your event. We will have your wristbands ready for your group upon your arrival.
Prepare an alphabetized list of your guests and email it to Ramseyer Farms a minimum of one day before your event. Your credit card must be on file and pre-authorized to use the guest list option. Your guests will check-in at our ticket booth. You will be charged for the guests who attend at the end of the night.
If each guest will be paying individually at the ticket booth, make sure they know the name of the group they are with.
You and your guests may come and go from your rental site,  but Ramseyer Farms is not responsible for items left unattended.
As guests from your group arrive at the entrance they will be told where your rental site is located and the starting time of the event.
Your group may arrive prior to your scheduled time to have fun at Ramseyer Farms. Admission is valid for the entire day of your event. Your rental site will be available at your scheduled time.
Cancellation Policy
There is no fee for canceling or rescheduling events due to inclement weather; we will work with you to reschedule the event at a mutually convenient date. Outside of inclement weather, we do ask for a three week notice of cancellation for our tent and little red barn rentals and a minimum of 24 hours notice for bonfire rentals, so that we can make them available for others wishing to schedule events with us. If you have questions about our cancellation policy, we encourage you to call us at 330-264-0264.
Important Facts to Know Before You Book
Groups are welcome to bring their own food, use a catering service, or take advantage of the food options available on the farm
NO ALCOHOLIC beverages are permitted on the premises
NO SMOKING unless in the gravel parking lot
For safety reasons we do not allow cars to drive to the rental sites. We do have designated wagons available that you can use to carry food and other items to your site. For groups with large quantities of food/decorations, a Ramseyer Farms staff member will use a golf cart to transport food to your site. Check in with the admissions staff for wagon and cart availability.