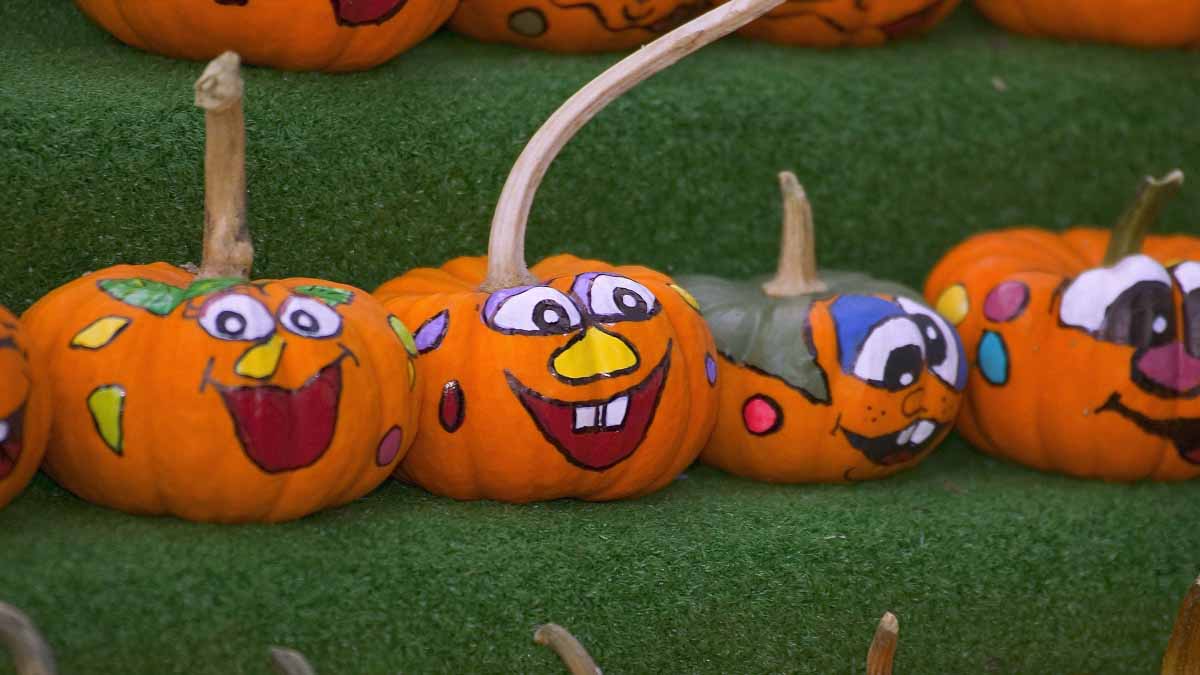 It's traditional to carve pumpkins, especially for placing on the porch at night, but if you want to use pumpkins as interior decorations, no-carve ideas are the way to go. No-carve pumpkins hold up better, do not have as strong a smell, and look great in your home. No-carve pumpkins can also be a little easier if you have a lot of little kids and can't keep as close an eye on them as you need to when the knives come out. Here are some ideas for making no-carve pumpkins.
Painted Pumpkins
Painted pumpkins are a great option for making no-carve pumpkins. You can use spray paints, brush paints, or even markers to make your designs. Black-and-white silhouettes make classy and simple-decorations. Metallic paints can give your pumpkins an elegant look. Textured paints can make your pumpkin look like weathered wood or ancient stone and, when coupled with a silhouette design, look really cool.
Reverse Paint Designs
Instead of painting your design on the pumpkin, you can coat the pumpkin in a solid color (black is a great choice, but green or blue can also work well). Then scratch designs in the paint, allowing the pumpkin's natural color to show through.
Decoupage
Decoupage is when you decorate a pumpkin by sticking paper to the outside. You can completely cover the pumpkin with decorative paper, newspaper, or magazines. Or you can just cut out features from magazines and apply them for noses, eyes, and ears on the pumpkin. Another option is to trace fall leaves onto tissue paper, cut them out and then decoupage them onto a white pumpkin.
Ribbon
Ribbon is a great idea for decorating pumpkins. If you are a good hand with tying ribbon, you can decorate them with bows, but for many people the best solution is to use two-sided tape to stick the ribbon to the pumpkin.
Votive Candle Holders
You can turn mini pumpkins into candle or votive holders by cutting out the top of the pumpkin the same diameter as the candle to be used. If you have a cordless drill with a bit the size of your candle the work will be done in no time. Once the hole is made, add a sprig of fall berries or leaves from your craft store before inserting the candle. Tie a colorful piece of ribbon around the base of the candle for a final touch. Remember to put this candle holder on a small piece of foil or base to keep from leaving a ring on your wood surface.
Dress Them Up
You can add flair to your pumpkins by getting them some clothes. Put a painted pumpkin on the shelf, then hang an outfit on a wire frame below the pumpkin. Gloves and shoes complete the look. For a simpler option, hats work great. You can even crochet them berets to make fancy French pumpkins.
Gourds Can Play, Too
When you're not carving them, other types of gourds and squash become good candidates for decorating. Their fancy colors and unusual shapes can add extra style to your decorating.
With all these ideas, you're ready to decorate for your next autumn party. Get started by picking out your favorite pumpkins at Ramseyer Farms, conveniently located between Columbus and Cleveland, Ohio.