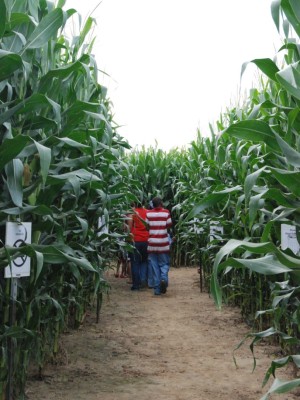 The Mystery Maize
The Mystery Maize is an 8-acre corn maze with approximately 2 miles of trails. It has an exciting new theme every year. Beginning at the entrance, maze goers must travel through the entire maze to find their way out. Along the way there are signs posted to help teach about the maze theme and to give an idea of where in the maze the maze goer is. There is also a fun game related to the theme! Those who wish to try this maze are given a map and the phone number of our maze rescue hotline just in case they get lost. We recommend guests with younger children try our Mini Maize.
Approximate time to navigate the maze: 30 min. to an hour.
The Mini Maize
The Mini Maize is a smaller maze within the large Mystery Maize. This is perfect for those not wanting to take on the challenge of the more involved Mystery Maize. We recommend this maze for families with younger children.
Corn Maze Rules
Children under 14 must be accompanied by an adult and must be supervised at all times.
Please stay on the path and do not cut through the corn.
Please do not pull the stalks or pick the corn.
For the safety of yourself and others, please do not run.
Smoking is not permitted. Corn stalks are dry and flammable!
Please do not litter.
Have Fun! – The corn mazes are a great time to spend with friends and family as you wind your way through them. Be sure to bring along a camera to record the memories and enter our annual

photo contest

.