Activity Hours:
Tuesday-Friday: 3pm-7pm
Saturday: 11am-7pm
Sunday (Sept 23-Oct 28): 1pm-6pm
Closed Mondays except Columbus Day
Country Store & Pumpkin Hours:
Tuesday-Friday: 9:30pm-7pm
Saturday: 11am-7pm
Sunday (Sept 23-Oct 28): 1pm-6pm
Closed Mondays except Columbus Day
Homeschool Days
September 7 & 11
These days are set aside just for homeschool and play groups! Click here for more information.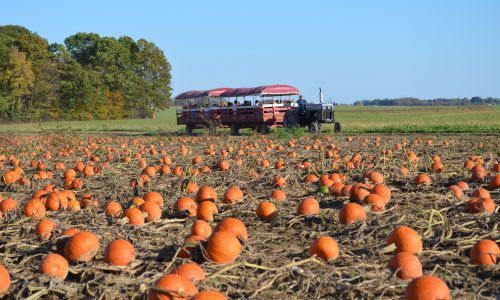 Sunflower Festival
September 8
Come walk through our field of brilliant yellow sunflowers during the first ever Sunflower Festival at Ramseyer Farms. On this special day, September 8, from 11:00 a.m.-7:00 p.m., admission to the farm's 45+ activities will also include a hayride to see the sunflower field, and each guest will be able to take home one FREE sunflower. Guests purchasing Sunflower Festival tickets online before September 8th will receive two FREE sunflowers. Extra sunflowers are just $1 each or mason jars will be available to purchase and fill with as many flowers as you can fit!
Admission to the corn mazes and activities is not required to visit the sunflower field. A ticket for just a hayride can be purchased for $6 and will still include a free sunflower! Clippers will be provided, but guests are welcome to bring their own.
Don't miss these beautiful sunflowers and the chance to take a beautiful bouquet home with you!
*Please recognize that this event is weather permitting and relies on the proper growing conditions. Please watch our Ramseyer Farms Facebook page for updates on field and flower conditions.
*Can't make it on September 8? IF sunflowers are still available, you may cut and purchase them Tuesday through Friday (Sept. 11-14) between 3:00 p.m. and 7:00 p.m.
Grandparents Day
September 15
FREE ADMISSION for any grandparent who brings a grandchild age 3 or older. Come make memories with your grandkids!
Touch a Tractor
September 22 & 23: 1:00pm – 4:00pm
In addition to our farm activities, come get up close and sit inside a variety of big tractors between 1pm & 4pm! No admission is required if only visiting the tractors.
Open Columbus Day
October 8: 1:00pm – 6:00pm
Yes, we are open Columbus Day! Our french fries, kettle corn, and other food from one of our vendors will be available as well. Come join us for some fall fun!