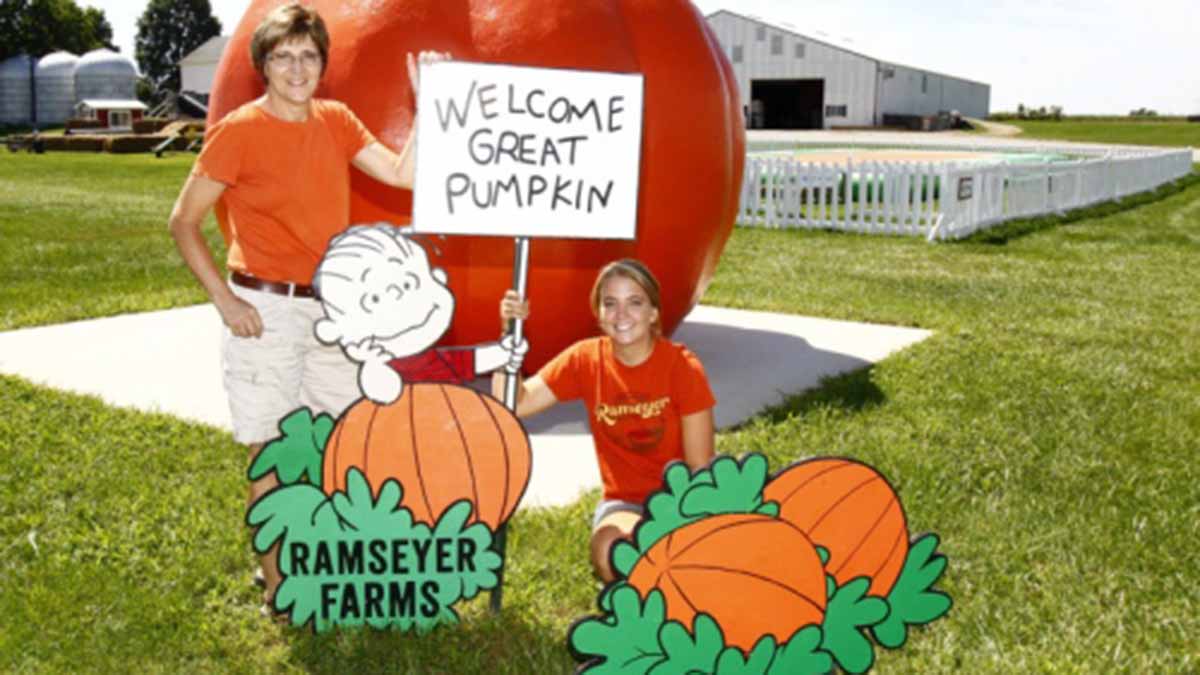 Fall Fun on a Wayne County Farm!
There are three things that I've learned never to discuss with people: religion, politics and the Great Pumpkin.
These words uttered by a blanket-carrying Linus some 50 years ago are as relevant today as they were when It's the Great Pumpkin, Charlie Brown first aired. The Peanuts special is being celebrated across the country as some 90 farms are marking the milestone with special Peanuts-themed corn mazes.
Ohio is home to three such mazes, and one is located at Ramseyer Farms in Wayne County. Karen Ramseyer said they were excited when the folks in charge of licensing the Peanuts character first approached them to participate in the nationwide corn maze tribute.
Most of the farms used a design created by The MAiZE Inc., but, Ramseyer said, they wanted to try out their own design. So with some graph paper, a bit of ingenuity and a lot of creativity, the family was able to create an 8-acre maze that features not only Linus, but also Charlie Brown, Snoopy and Sally in a moonlit pumpkin patch. "I think it turned out great," she said. "The Peanuts folks said they did a happy dance when they saw a picture of it."
The farm also features a second large maze that depicts a map of Ohio. Some of the farm's favorites are back, including the pedal cart racetrack, Hide and Slide Hill, hayrides and farm animals, but it is all about Charlie Brown this fall at the farm with cutouts of Peanuts characters offering perfect places to take a selfie or a family photo.
The farm will, of course, once again have a giant pumpkin patch filled with thousands of pumpkins that would make even Linus proud and perhaps attract the Great Pumpkin. "Each year, the Great Pumpkin rises out of the pumpkin patch that he thinks is the most sincere," Linus says in the special. "He's gotta pick this one. He's got to. I don't see how a pumpkin patch can be more sincere than this one. You can look around and there's not a sign of hypocrisy. Nothing but sincerity as far as the eye can see."
Whether the Great Pumpkin will actually make an appearance remains to be seen. As part of the national tribute, the farm has been selected as a location for a special outdoor viewing of the TV special at 8 p.m. Sept. 24. Ramseyer said a special screen will be set up, and visitors are invited to bring blankets or lawn chairs and watch the cartoon.
"The Great Pumpkin and cornfield mazes are two of the world's greatest fall traditions, eagerly anticipated by fans every single year, and we're so excited to bring them together for this landmark anniversary," said Jill Schulz, daughter of Peanuts creator Charles M. Schulz, in a statement. "As we prepare to celebrate the 50th Anniversary of It's the Great Pumpkin, Charlie Brown, it's only fitting that we should find a tribute that's both joyful and visually compelling, just as my father's characters have been for more than 65 years."
To fully navigate the giant Peanuts-themed maze and look for all of the clues and trivia facts at Ramseyer Farms could take anywhere from 45 minutes to an hour. Ramseyer said they send folks out with a phone number to call for help should they get lost amid the sea of corn. "We've already had a few people get lost," she said. "It can be tricky. The corn all starts to look alike."